Happy Holidays from all of us in Art aRound Town!  Our best wishes to you and yours for 2014!
Winter has arrived at the Welcome Centre and the Holidays are just around the corner!  Please feel free to come in out of the cold and browse through our displays in the Artisans Market and the Heritage Room.  You will find many handmade items which would make great gifts for Christmas and other special occasions.  
On display now are works by:
Ruth Anne Merner – Jewelry
Catherine Weber – Drawings, Paintings and Encaustic Christmas Cards
Gina Harris – Collage and Mixed Media works

David Loerchner – Unique Handmade Wooden Furniture, gifts
Artists for Aids High School Project – Prints by SHDHS Students to raise funds for specials projects in Africa
Bonnie Sitter – Photography, "Beauty and the Bounty of Huron County" photo book, Cards, etc.
Linda Leslie – Watercolours, Christmas Cards and cards for many occasions
Lindsay Groot – Photography

Robin McLeod – Photography

Ralph Christmas – Wooden Bowls
Nancy Marshall – Pottery
Sarah Nogueira – Youth Award Winning Painting

Handmade Holiday Cards by Students @ South Huron District High

Books by Local Authors
White Squirrel Gifts and more!
Our Artist Reception is Thursday, December 12 from 5:00 – 7:00 pm.  You can meet this month's artists, enjoy some refreshments and even have a caricature done by artist Randy Jones!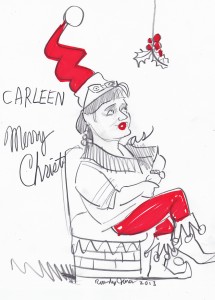 Above:  Caricature of Carleen Hone by Randy Jones